Charming, colourful & colonial are just some of the words that describe this absolute treasure of a city and hands down, one of my favourite places to have visited.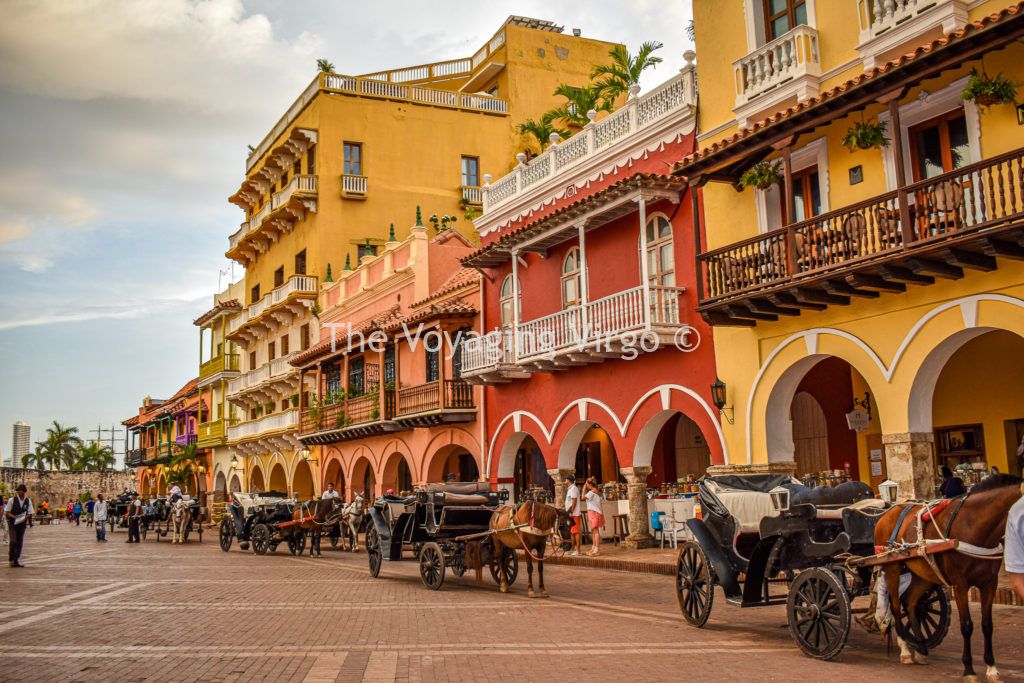 Situated along the northern coast of Colombia embraced by the warm Caribbean Sea, is Cartagena. It is has long been a hidden gem but in more recent times, due to its sunny climes and irresistibly instagrammable façades, it has attracted more visitors. Of course, an increase in tourism is a great thing for the local economy but with that comes floods of visitors. For now though, it remains a lesser known destination and why I chose to visit it sooner rather than later.
From horse drawn carriages trotting down its cobbled streets to its Spanish colonial architecture and ornate balconies glittered with tropical flowers, this city just oozes old world charm; walking through its labyrinthine streets transports you on a journey back in time.
Owing to the geography and history of the city, it is a melting pot of cultures bringing together the best of Caribbean, African, Indigenous and Spanish influences. This kaleidoscope of cultures and heritage is evident at every turn, from the people, the language and the traditional dress to the food, music and dances of the region, setting the city apart from other places in the country and South America generally.
So if you like history, beautiful architecture and don't mind sweltering heat, Cartagena is a must for anyone visiting Colombia. It has a unique vibe that I have experienced nowhere else and for photography lovers, it is a goldmine for fabulous colourful backdrops and locations.
History
Founded in 1533 by Spaniard Pedro de Heredia, Cartagena was a strategic Spanish trading port exporting Peruvian silver back to Europe and importing enslaved Africans into the continent hence why there is a large Afro-Caribbean influence woven into the fabric of the region.
The city played a key role in the expansion of the Spanish empire and was a target for pirates and attacks from competing colonisers such as England and France.

To ward off unwelcome visitors, a defensive tower, San Felipe del Boqueron, was constructed (which can still be visited today) and eventually, defensive walls were built around the city. Today, Cartagena's walled city has been granted UNESCO world heritage status. The walls offer an especially spectacular vantage point for viewing the glorious Caribbean sunset, a must-see when visiting Cartagena.
Things to Do
Roam around the Old Town
There is nothing I love doing more than wandering around a city without a map or a plan and taking in the smells, sounds and sights of my surroundings. There is no better place to do this than Cartagena as it is such an assault on the senses with its dreamy balconies adorned with fragrant bougainvillea, sun-drenched plazas, flamboyantly dressed fruit vendors and rainbow-coloured buildings.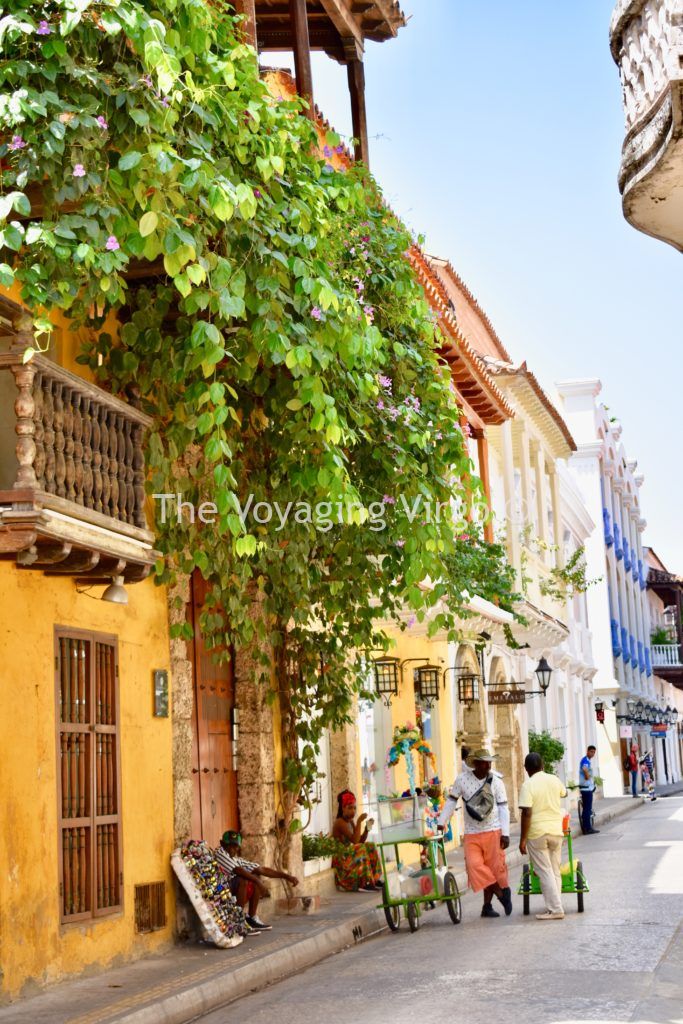 The old town, contained within the city walls, it perfect for exploring by foot, given the limited traffic permitted to travel through its narrow-cobbled streets however, be warned, it's easy to get lost as the old town is somewhat of a maze. But that's nothing to fret about – when you get lost is when you discover all the best places!
The old city isn't all that big however, so you can always find your way eventually. The iconic orange and red turret of the Cathedral Basilica of Saint Catherine of Alexandria which towers over the old town acted as my lighthouse, guiding me back when I lost my way. Once I found my way back to that, I was able to find my bearings!
The old town is where you will find most of the hotels, restaurants and tourist hotspots. It's busy and bustling and there's always something going on. You can easily while away your day taking a leisurely stroll through its lively streets, perusing through its many shops selling local arts and crafts. And when you need a break, stop by one of Cartagena's many fruits vendors and treat yourself to a refreshing coconut water or pineapple juice.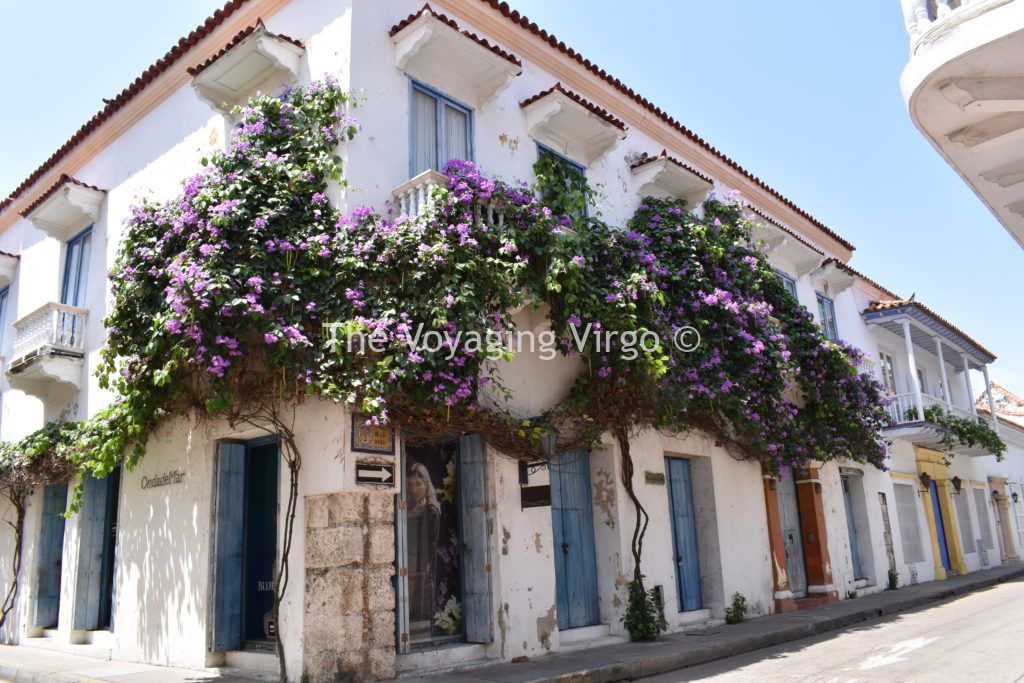 Walk the Old City Walls to watch the sunset at Café del Mar.
As mentioned above, the old town is a walled city. The walls were erected centuries ago by the Spanish to defend the city from invading enemies. Today, they are protected by UNESCO and can be visited and walked along.
They provide the perfect spot to settle down and watch the sun go down over the Caribbean sea with a cold refreshing drink in hand. Café del Mar is a popular spot for tourists and locals to grab a drink and table with ocean views. Personally, I like to avoid the crowds (and expensive drinks) and found a more secluded spot to watch the sunset further along the wall.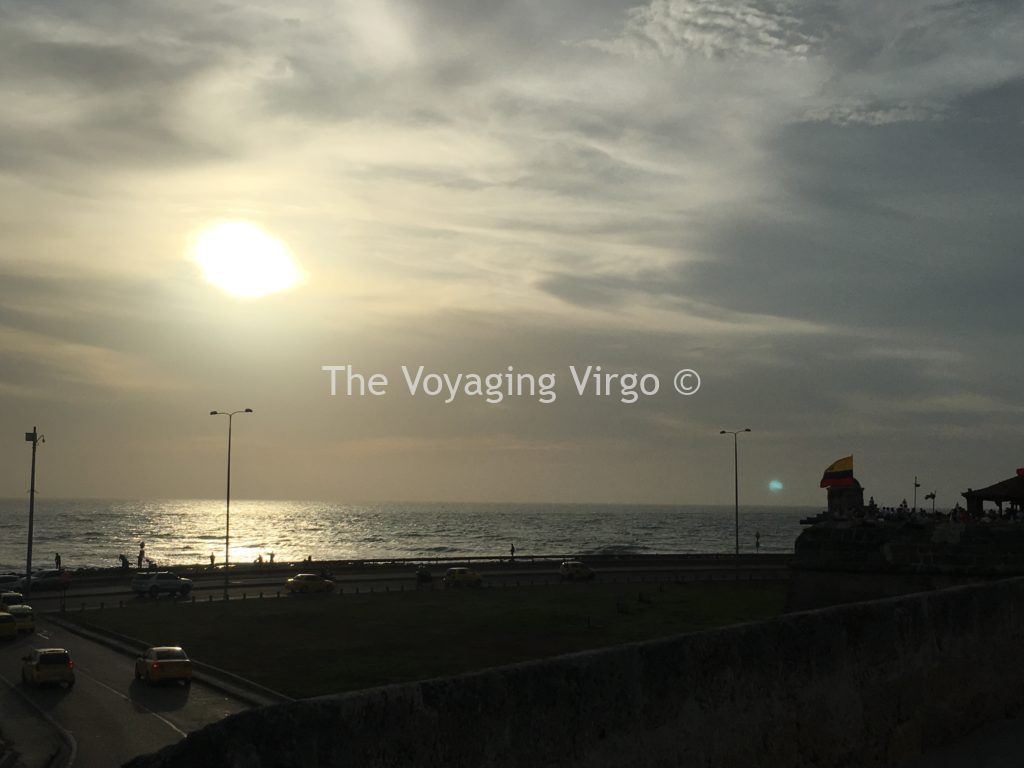 Get a photo with a Palenquera
Cartagena is famed for its vibrantly dressed Palenqueras who you will encounter at every turn whilst exploring the city. They have become somewhat of symbol for Cartagena with their colourful dresses and fruit baskets carefully balanced on top of their heads.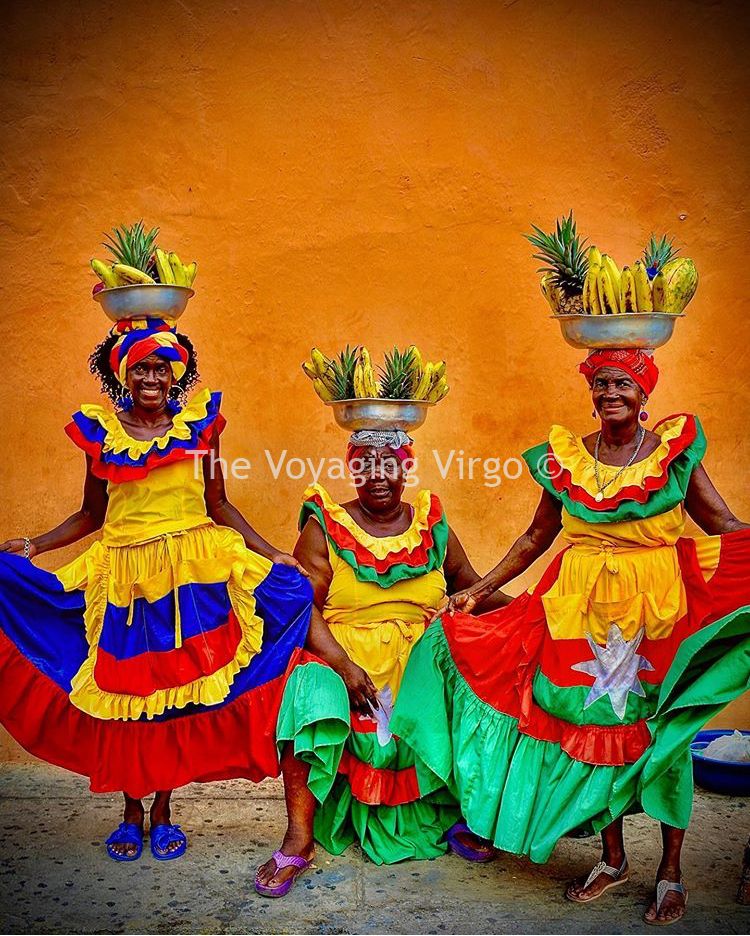 However, the Palenqueras are not merely a photo opportunity, they have far more historical significance than most people realise – they are the living embodiment of their ancestors' struggle for freedom and the determination of the human spirit.
The Palenqueras can trace their ancestry back to enslaved Africans, brought to Colombia by the Spanish, who revolted against their captors and ran away to a small village called San Basilio de Palenque in the 1600's where they settled. There, they were free to practice their African traditions and customs. They later went on to found the very first free town in the Americas and the New World.
In order to make an income, the ladies of Palenque would pick local fruits and sell them in the city. Over the generations, the Palenqueras have become an icon for Colombia and instead of selling fruits, they now largely earn an income from tourists looking to get a photograph with them in their colourful attire against the equally colourful backdrop of the city.
Do be warned however that these ladies do not like to be photographed without permission and will levy a small fee in exchange for a photo. They will be pretty annoyed if you don't pay so do bear this in mind before trying to get a cheeky snap.
Visit the churches
Given that Colombia was a Spanish colony for a very long time, there is an abundance of beautiful Spanish style cathedrals and churches around the city.
If you're going to visit one, Iglesia Santo Domingo is definitely worth an hour of your time. Located in the Plaza Santa Domingo, the church is the glowing centrepiece of the city with its bright orange painted walls. Established in the 16th century, the church is considered to be one of the oldest in the city and I was fortunate to witness a beautiful Colombian wedding whilst there!
And whilst your visiting, don't forget to visit Botero's Gorda Gertrudis statue outside the church. Legend has it, that if you touch her breasts, you'll be lucky in love…not sure who came up with that but it seems to have convinced a few people judging by how shiny they were in contrast to the rest of her body!
See the Puerta de Reloj (Clock Tower and main gateway into the city)
The clock tower marks the entrance to the old walled city and is a bustling spot especially come sundown providing the backdrop to local Mapalé dancers.
Mapalé is an Afro-Colombian Dance-Form that was brought over to the Americas by African slaves some centuries ago. With its exuberant moves and fast rhythms, the dance is said to originate from fishing tradition. The movements of the men mimic those of the mapalè fish when out of the water and those of the women mimic the raging sea.
As you exit the old city via the clocktower and head towards Getsemani, you'll pass through Parque Centenario. This hosts a number of market vendors selling local wares and souvenirs.
Oddly, the park also attracts tourists and locals who come to spot the resident sloths, iguanas and monkeys in the park trees. It wasn't entirely clear to me whether these were native of if they belonged to someone. Either way, they created somewhat of an attraction.
Parque de Bolivar & the Palace of the Inquisition
The Parque de Bolivar is a leafy oasis offering respite from the searing Cartagenian sun beneath the shade of its swaying palm trees and the spray of its gushing water fountains. At its centre proudly stands a towering statue of Colombia's liberator Simon Bolivar, who fought and eventually won the nation's independence from Spain.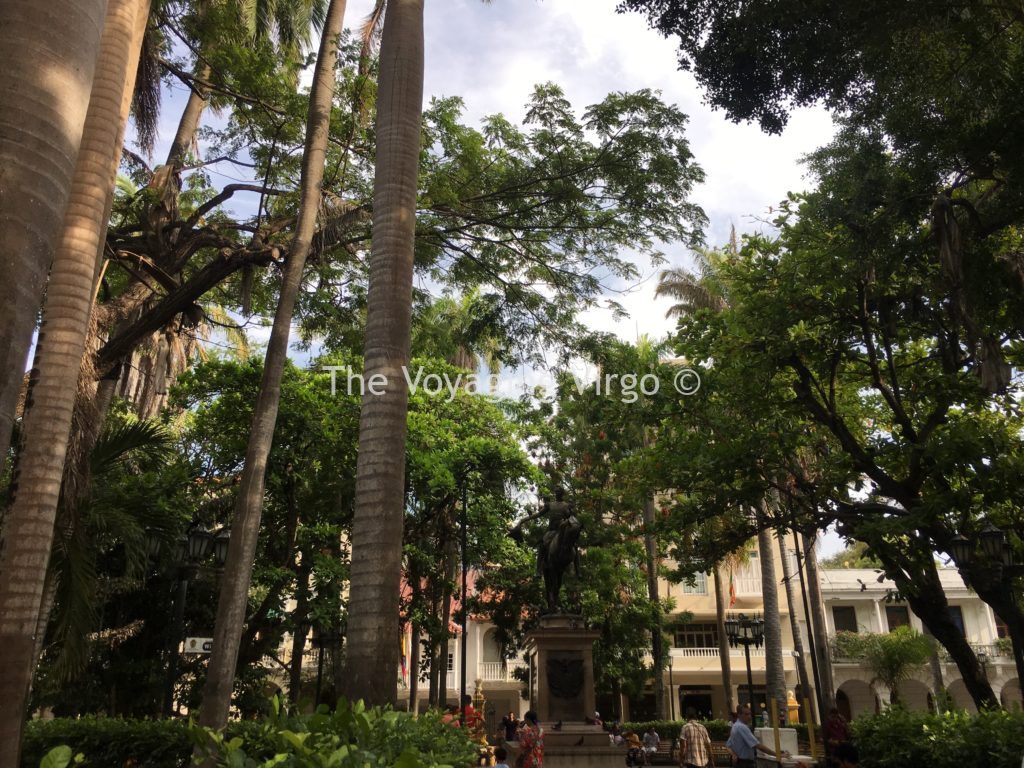 What today offers a relaxing spot for people watching or a cheeky afternoon snooze, is also home to one of Cartagena's more sinister historical buildings, the Palace of the Inquisition. Built in the classic Spanish colonial style with a grandiose entrance and ornate balconies, this beautiful building hides a not so beautiful past. It was once the headquarters for the Spanish Inquisition where those denounced as heretics or witches were tortured, and killed by Catholic colonisers.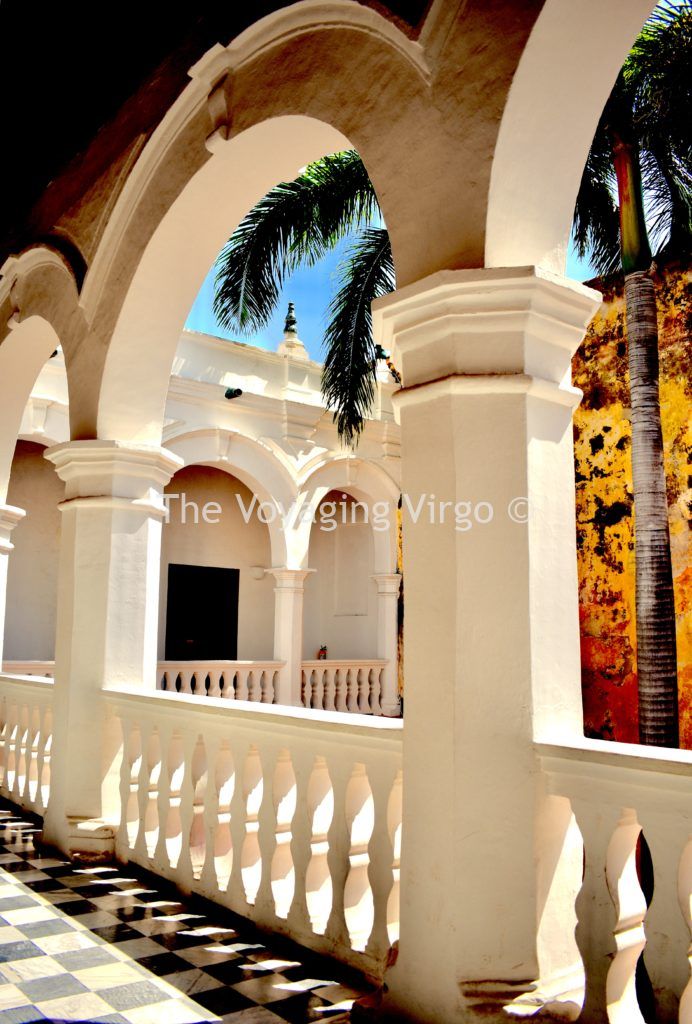 Originally named the Court of the Holy Office, the building housed a prison where heretics, blasphemers and alleged witches were locked away awaiting judgment. Torture was used as a means of inducing confessions which would ultimately result in a sentence to death by public execution. Considered necessary by the Spaniards to protect the Catholic church and faith, the building has borne witness to many a gruesome act perpetrated in the name of religion and colonialism.
Today, the building serves as a museum with several torture devices used during that era on display from thumb screws, to the rack and head crushers. But it's not all about torture, here you can also see pre-Columbian pottery, paintings and furniture.
Even if history is not your thing, the museum is still worth visiting just for its stunning baroque architecture which has been so beautifully preserved. Built in classic Spanish style, you can spend the afternoon admiring the tall archways, green courtyards, wooden balconies and stone stairways.
Getsemani
If you've got a few days in Cartagena and have explored the old town, there's still heaps more to discover. Head over to the hipster neighbourhood of Getsemani.
Located just outside of the city walls, you can reach this part of town by heading out of the city gates via the clock tower and crossing through the Parque Centenario.
Getsemani is where you'll find a lot of the budget hostels, boutique hotels, cafes and bars – very popular with backpackers on a budget. Known for its colourful graffiti, the neighbourhood comes to life in the evenings with street performers and dance clubs spilling over.
The area hasn't always been so popular, in fact it wasn't the safest place to visit. Although it has come a long way, I would advise heeding caution here if visiting at night.
Castillo de San Felipe de Barajas & monument to India Catalina
The castle and monument can be reached in a 20-minute walk from downtown Cartagena and is located in el Pie de la Popa neighbourhood.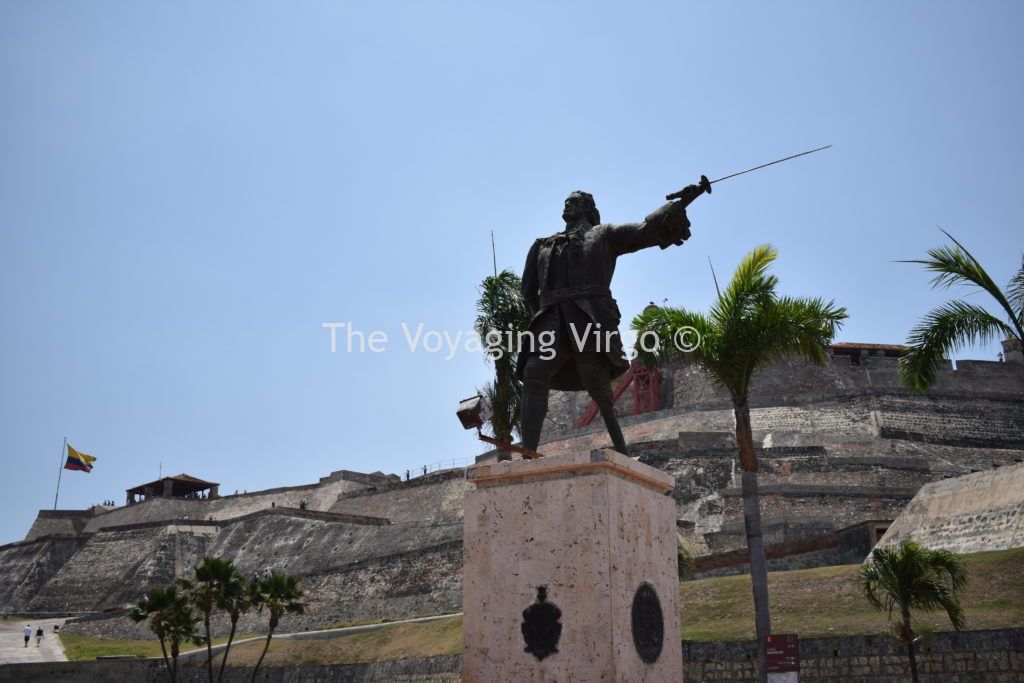 The castle was built as a fortification by the Spanish to ward off attacks from pirates and invading rivals such as the English. Built by slaves, the castle took over 100 years to complete.
Of note are the maze-like tunnels constructed strategically so that the footsteps of approaching enemy could be heard. Some of the tunnels remain open and can be walked through by visitors today. The top of the castle also offers fantastic panoramic views of old and new Cartagena.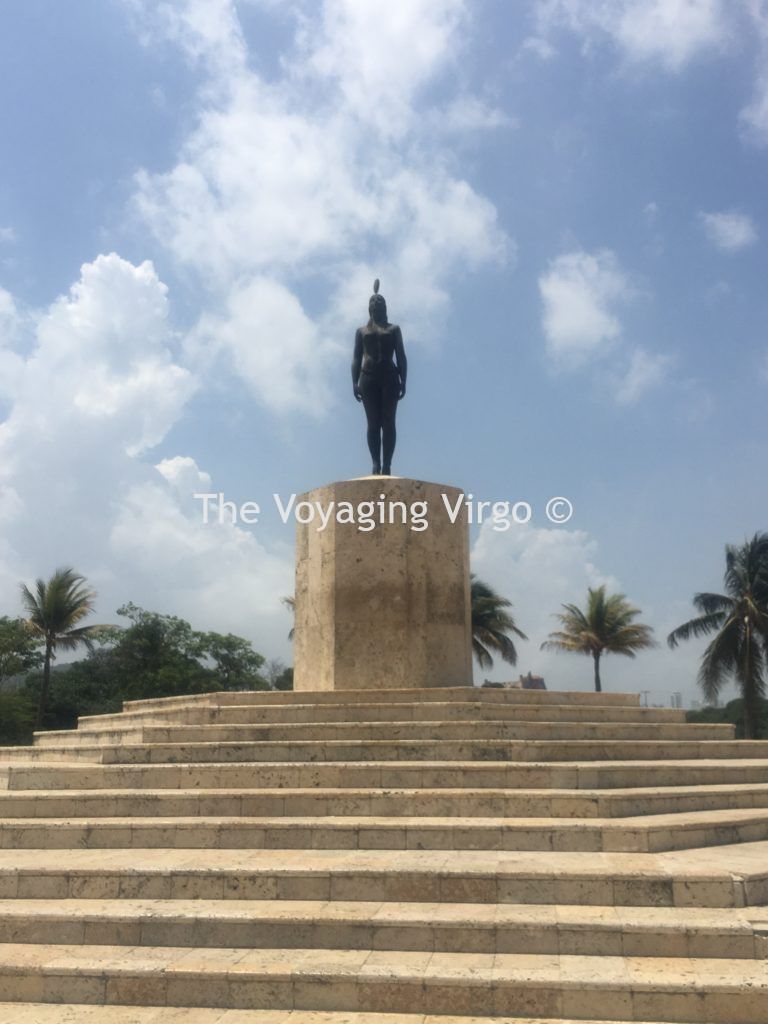 As you walk to the castle from the old town you will encounter the statue of India Catalina which was created in 1974 by Eladio Gil.
Known by her Spanish Christian name Catalina, she belonged to a group of indigenous people called the Carib who inhabited Colombia before the arrival of the Spanish conquistadors.
The daughter of a local tribal chief, Catalina was kidnapped by the Spanish from her indigenous settlement and was made to learn the Spanish language and convert to Catholicism. She was then made to serve as an interpreter to Pedro de Heredia, a Spanish conqueror, between the Spanish and the local native people. To this day, no one knows what her true indigenous name was.
If you do decide to visit the castle, you will be leaving the confines of the old city and heading out into an area less frequented by tourists. I only learned after visiting that this is not the safest area to walk through. Apart from the odd stare from locals and a catcall, it was ok but I was being vigilant at all times keeping my valuables hidden. If you can, go in a group.
Visit the New Cartagena – Boca Grande
Boca Grande is the modern part of Cartagena where you will find high rise buildings, all-inclusive resorts, nightclubs and shopping malls.
I didn't personally visit myself as I was completely mesmerised by the charm of the old town and didn't have the time, but if you have a few days, you can head on over if you fancy a change from the old historical city.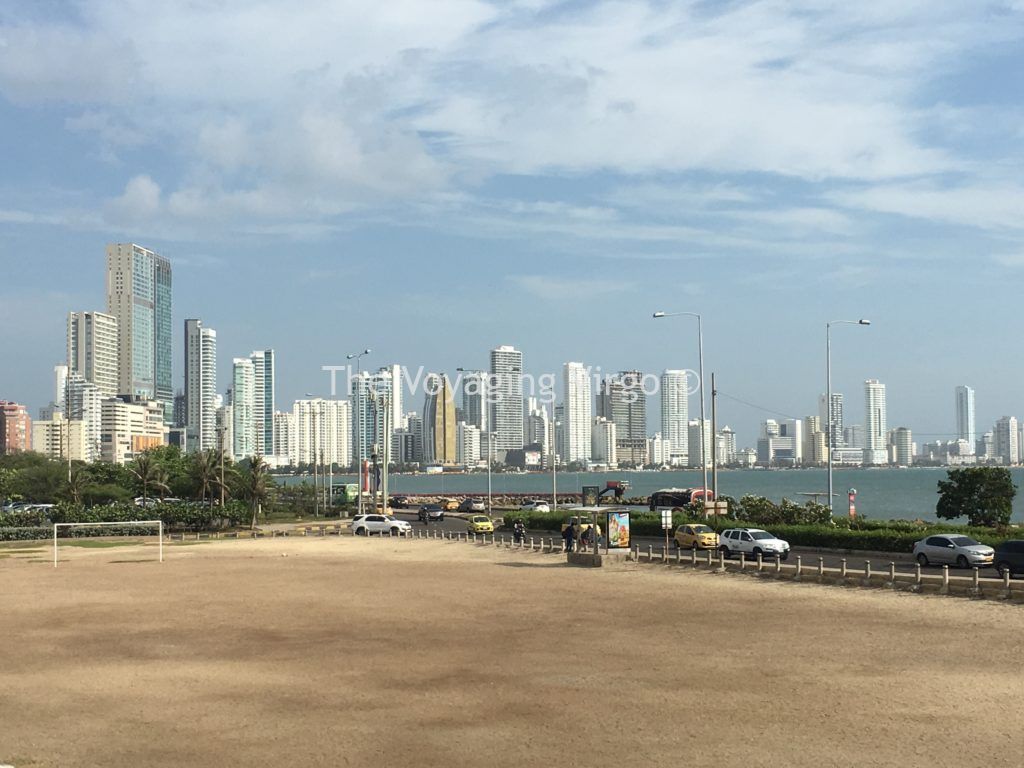 Visit the Rosario Islands
Despite being located on the Caribbean coast, the beaches in historical Cartagena aren't great. If you want to visit white sand beaches and crystal-clear waters, your best bet is to head out to one of the many islands dotted along the coast. I took a boat trip out to the Rosario Islands, an idyllic archipelago of 30 islands, 45 minutes southwest of the city. One thing I would advise however, is to do your research first, there are several companies offering to take tourists out to an island resort for the day with a meal and drinks included but the resorts can vary in quality and facilities.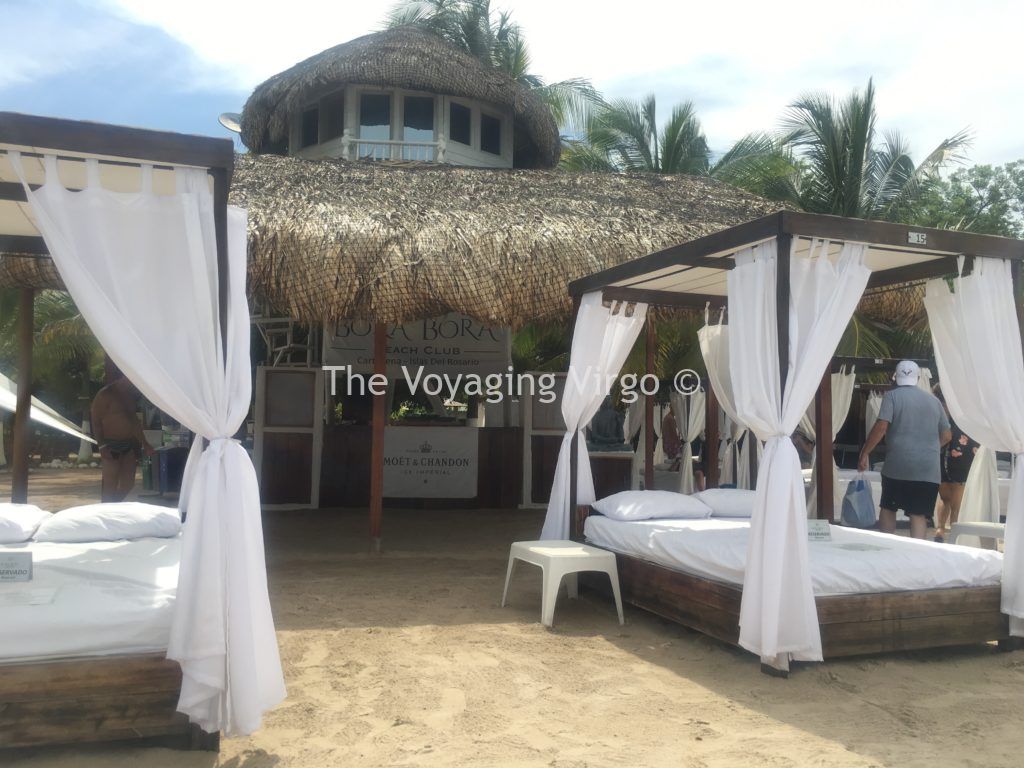 I bought an excursion from my G-Adventures guide to the Bora Bora beach resort which was overpriced and disappointing. Essentially it was a closed off area on a beach with sun loungers and a bar with a narrow strip of beach. There was nothing to do all day other than sleep on your lounger and listen to blaring music from the DJ booth. Not my idea of a fun day out.
However there are some genuinely beautiful islands that can be visited with more things to see and do on them. Some day trips take you to hotels where you can use their facilities for the day. That's why I suggest researching the best places that can offer you what you're looking for.
Boats depart from the harbour across the road from the clock tower where a lot of the tourist boats are docked. There are several tourist offices around the old city from whom you can buy excursions from.
Food
I'm vegetarian so food is always a challenge for me when travelling but below I have included a few highlights that I recommend when visiting Cartagena:
Crepes & Waffles
This is a popular chain across Colombia but offers some hearty, tummy filling food when you just want something familiar. The restaurant serves up some great dishes (not just crepes and waffles) and has an extensive vegetarian friendly menu.
I highly recommend the vegetarian pitta which comes piping hot out of the oven in an iron dish topped with melting mozzarella, salsa, mushrooms, onions, herbs and spices. Delicioso!
The fresh fruit juices and desserts are fabulous too with a large selection of sweet waffles, crepes, sundaes and milkshakes to choose from.
2. Fresh Fruit
You're in Colombia so there is no way you can leave without sampling the abundance of delectable fruits it has to offer. In Cartagena, there are fruit vendors at every turn offering up sumptuous freshly sliced mangoes and pineapples – Just the refreshing snack you will need when exploring this scorching city.
3.Coconut lemonade
This is a local speciality and is oh so refreshing. I especially recommend the one at Crepes & Waffles which is blended with crushed ice.
4.Restaurant Interno
If you enjoy fine dining and want to experience something a little quirky, give this place a go. The restaurant is located inside a Cartagena's San Diego Women's prison and all food is cooked and served by the prison's inmates.
The concept is designed to allow inmates to resocialise whilst gaining valuable skills to allow them to transition back into society. It's a unique experience as you're required to pass through some barred gates before entering the restaurant and dishes are passed through an opening by kitchen staff. But the food and service are great and overall, it was a different experience.
5. La Paletteria
This place definitely felt like an oasis in the desert. La Paletteria serves up ice popsicles made from fresh tropical fruits native to Colombia such as maracuya (a type of passionfruit), lulo ( a citrus fruit), coconut, oranges, berries, you name it! It's the perfect antidote to the heat when you're in need of a quick afternoon pick me up.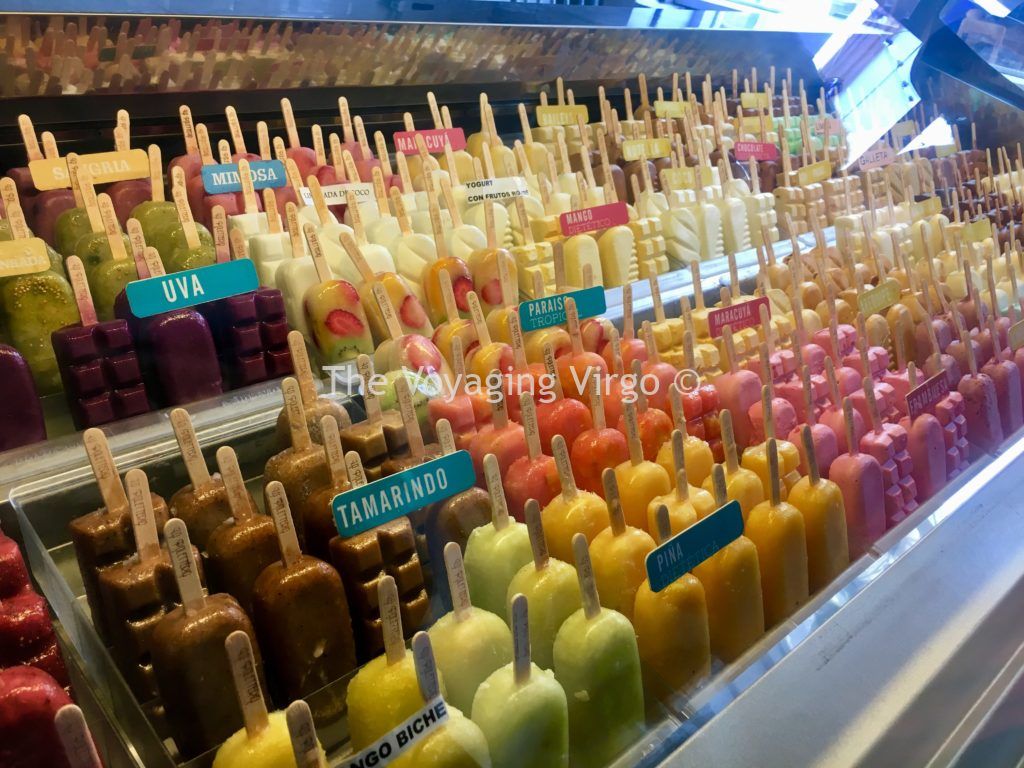 6. Café Havana
I was absolutely gutted I only found this on my last night. I absolutely love Cuban salsa and music and would have loved to have visited this music institution.
Cafe Havana is a live music venue and hosts the very best Cuban singers and live music groups. It's a lively venue where locals and tourists alike come together to salsa the night away. If you enjoy live music and a buzzing atmosphere, stop by this club on a weekend.
Conclusion
So that my friends, is Cartagena in a nutshell. If you're feeling adventurous and planning a trip to Colombia, I highly recommend spending a few days in Cartagena. It is a little out of the way from Bogota and Medellin but definitely worth the detour.
I, quite selfishly, would rather keep this place a secret just because it's so unique and special, I'd hate to see it overrun with tourists and become another victim of over-tourism. But, with the rise of social media and its ability to influence travel trends, tourism in Colombia is steadily on the increase and it won't be long before Cartagena becomes a staple on traveller itineraries. So all I can say is, get there before the secret is out!