Known as Colombia's less visited answer to Machu Picchu, The Lost City (La Ciudad Perdida in Spanish) is an ancient settlement reachable only via a challenging 5-day trek through Colombia's northern Sierra Nevada mountain range and promises a memorable experience for those in search of adventure.

Covering a distance of 46km, you'll traverse through lush farmland, rushing rivers, indigenous villages, humid tropical jungle and mist-shrouded mountain valleys to reach the ancient city. If you're a keen hiker, enjoy nature and adventure, this trek should definitely be on your itinerary.
1. About the Lost City
After being mysteriously abandoned by the Tayrona people in the 16th century, around the time of the Spanish conquest, the ancient settlement was claimed by the thick jungle surrounding it where it remained hidden for 400 years, hence it's name the 'Lost City'. It was then 'rediscovered' by grave robbers in the 1970's. Although its treasures have long been removed, it is now a protected archaeological site, and remains sacred to local indigenous groups.
Clinging to remote hillside, the complex is vast and comprises of stone buildings and hundreds of circular green terraces intricately carved out of the rock. It dates back to more than 1,400 years, predating the more well-known South American wonder Machu Picchu by some 650 years.
Today, the city is sacred to the four indigenous groups (the Kogi, Arguaco, Wiwa and Kankuamo) who inhabit the local area and protect the ruins. Some local tour operators actually work with these indigenous groups to run trekking tours to the site to help preserve it whilst enabling the tribes to benefit from local tourism.
The Lost City has only fairly recently become a popular trekking route for keen backpackers as the the surrounding jungle had previously been controlled by guerrilla fighters, making it completely off-limits. In 2003 a group of tourists were kidnapped by ELN Marxist guerrilla fighters, whilst hiking to the Lost City and were held captive for 100 days. The ruins therefore remained inaccessible for several decades.
However, a lot has changed since then and the trek is now safe for tourists to undertake. The jungle is patrolled by the Colombian army to protect the ancient ruins and keep hikers safe. It is therefore likely that you will encounter soldiers during the trek but this is nothing to worry about so don't feel intimidated by it.
2. Who To Go With
Unlike Machu Picchu, the Lost City can only be visited by a 4-5 day trek through the jungle. There is no other way of reaching the site at present.
I booked my trek as part of a 22-day tour with G Adventures however if you're travelling independently, you can book it yourself directly once you arrive in Santa Marta or reserve a spot in advance. The tour I did with G Adventures employed a local tour operator (Wiwa Tours), so you may save a little money by cutting out the middle man and going directly to them. Tours depart from the city of Santa Marta on the Caribbean coast which is not too far from Cartagena.
The two main providers of treks to the city are Magic tours and Wiwa Tours, both of which have offices in Santa Marta. G Adventures runs its treks via Wiwa tours and it costed me around £500 for the 5-day trek. This price included a pick-up from our hotel in Santa Marta to the starting point of the trek, an indigenous Wiwa guide, a G Adventures guide & translator, accommodation during the trek, two meals a day and drop off to our hotel at the end of the trek.
Ordinarily, the trek takes 4 days and is a 'round-trip' meaning you hike there and back. However, I am aware that some tour operators offer a 6-day option for those who want to go at a more relaxed pace with fewer hours of hiking per day. Provided you are in generally good shape, I don't think you need 6 days to complete the trek, 4 days is sufficient. If you book with G Adventures, the trek is 5 days long as it includes an additional day of hiking to visit to a local Wiwa village as part of a Planeterra community project supported by G Adventures.
3. When to Go
I completed the Lost City trek in July which is the rainy season (April-November) but I personally only encountered a few short bursts of showers which actually came as a welcome respite from the heat. The river crossings were not difficult or particularly deep. I'm only 5'1 feet tall and the water came up to around knee/thigh depth.
It was however incredibly hot, around 35 degrees Celsius and above during the day, and the rain meant that the path became muddy and slippery so do bear this mind. It wasn't an issue for me and I found that it actually added to the adventure of it all but if this doesn't sound like fun to you, plan your trip accordingly.
Alternatively, you can do it in the dry season which runs from December to March. The river depth will be lower and you will avoid muddy paths.
If you plan on travelling to Colombia in September, note that the Lost City trek is closed during this month every year for general maintenance.
4. The Trek to the Lost City
Day 1 – Aden Camp
The day began with a very early wake-up call (following a late night of frantically trying to cram everything I needed into my tiny day pack) and collection from our hotel at around 4am by our trusty G Adventures guide Hairo.
Our group, made up of 14 people of varying nationalities and ages (from early twenties to sixties!) was split across 2 jeeps and we made our way over to the village of Machete, the starting point for the trek.
From the main coastal highway we veered off onto a dirt road heading deep into the jungle and after a bumpy 1.5 hour ride, we arrived in Machete. A hearty meal awaited us to fuel us for the arduous road ahead and we were greeted by our friendly indigenous Wiwa guide Lantana. Lanta spoke both his indigenous dialect and Spanish. Hairo therefore acted as our Spanish to English translator but it was great having Lantana to share his knowledge and culture with us first-hand.
Like all Wiwa men, Lantana wore a long, white top and trousers with a hand-woven satchel draped across his chest. His hair was long and jet black. With him he carried his Poporo, a small container filled with powdered lime and coca leaves which, when crushed into a paste and chewed, acts as a mild-stimulant, much like chewing tobacco. We later learned that the receipt of a Poporo by a young Wiwa boy is a rite of passage marking his transition into manhood and is a very important part of Wiwa culture.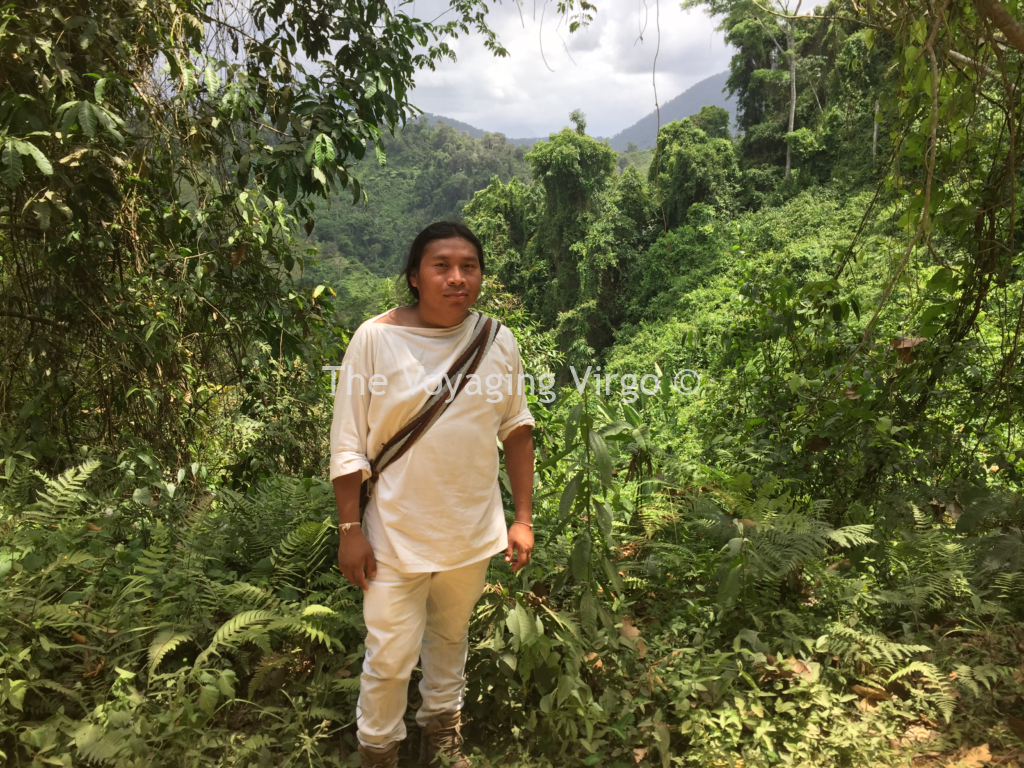 With Lantana and our G Adventures guide Hairo to lead the way, we set off on our first few hours of walking for the day. It was around 10am by this point but it was already a sweltering 30 degrees Celsius.
The terrain on the first day was entirely uphill, along a dirt road in the scorching midday sun with very little shade. Personally, I found this first day of hiking the hardest. Having completed the Inca trail the year before, I was feeling confident and thought that this trek would be a piece of cake in comparison given that it wasn't at high altitude – I was immediately proved wrong!
Within the first hour I was panting for breath and questioning whether I was fit enough to carry on. I think what makes this trek difficult are the intense heat and humidity, the steep inclines and the fact that you must carry your own belongings. However, with frequent rest breaks, pacing ourselves and drinking plenty of water, we all made it to our first camp where we were left to settle in before dinner.
Upon arrival, the camp situation came as a bit of a shock. Essentially, they comprised of wooden barracks with dirt floors, sheltered by a corrugated iron roof. Other than that, we were sleeping out in nature. The barracks were packed with bunks and hammocks with limited room for storing our belongings. Each bunk came equipped with a thin mattress and mosquito net with around 30 bunks compacted into one barrack.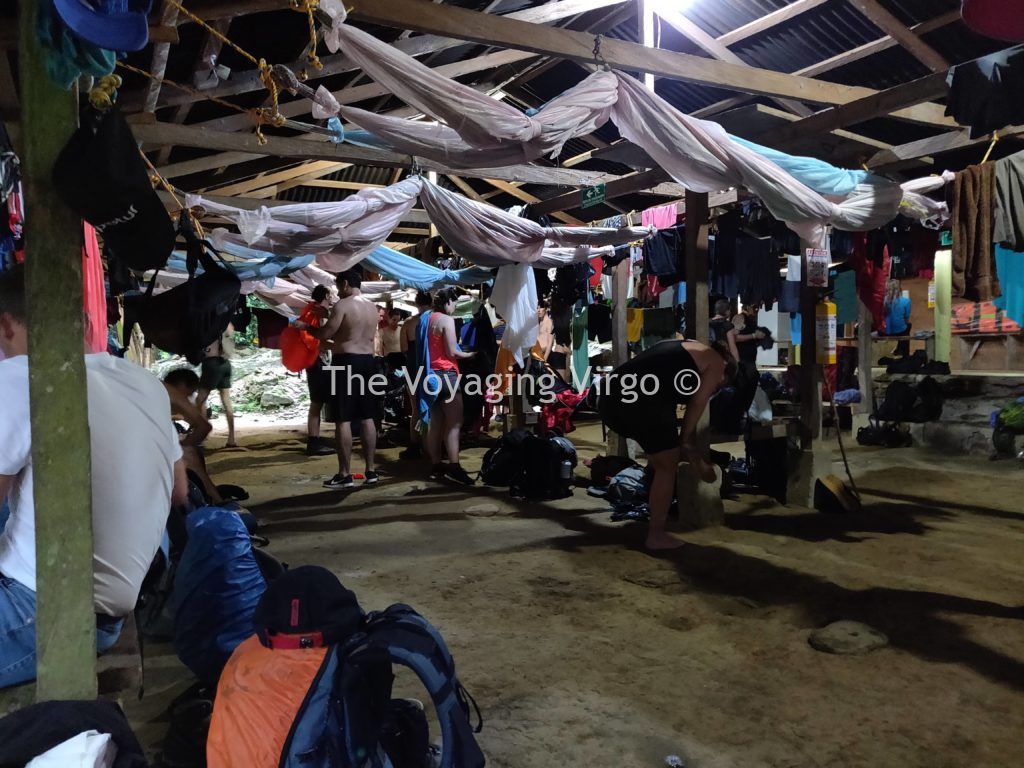 Given the turnaround in tour groups coming into the camps, it was apparent that the bedding was not being changed between groups. My solution to this is to always carry a thin sleeping bag liner to create a barrier between me and the bedding. I list out the items I recommend packing for this trek in a separate blog.
There was a combined toilet and shower barrack that was unisex. In all honesty, this could have done with some upkeep as it wasn't the cleanest (wear flip flops at all times!). I won't go into too much detail to scare anyone off! The fact that the camp was being used by around 2-3 different tour groups at the same time also meant that it was quite crowded with little privacy.
It's important to remember however that we were in the middle of a jungle and so limited facilities were to be expected and this is just part of the trekking experience. I imagine conditions will improve as the trek increases in popularity.
On the bright side, the close proximity with others gave ample opportunity to get to know our hiking companions quickly as well as some awkward encounters whilst trying to discreetly get changed behind the limited privacy of a semi-transparent mosquito net!
I think it's important to set out the above facts for anyone considering the Lost City trek but please don't let it put you off. I survived it and so I'm sure you can too. It's all a part of the experience and it's only for 5 days. When you've had a long day of trekking and are exhausted you won't even care!
The first night in camp was an interesting one. We were jostling past hikers from other groups, trying to find our bunks in the darkness. I drew the short straw and got top bunk, which meant trying to clamber in and out of my bunk in the dark without a ladder but it was funny and everyone was in really good spirits and understanding.
As we finally settled into our beds, we were serenaded by our rather jovial (and slightly drunk) Italian campmates with some spirited opera singing. However, it was all in good fun and eventually everyone wound down and got to sleep.
In spite of the hecticness of settling in, I really enjoyed my nights on the trek. The evenings were cooler and offered some reprieve from the sweltering heat of the day. The jungle also comes to life at night. As the barracks are open, you can hear all of the weird and wonderful sounds of the wildlife that inhabit the surrounding area along with the rhythmic patter of rainfall to soothe you to sleep. It's these little moments that allow me to feel connected to nature and why I enjoy trekking so much.
Day 2 – Wiwa Camp
Early mornings are the norm on this trek and we woke again before sunrise. After a quick cold shower and a breakfast of coffee, arepas and fruit, we headed out again for another day of trekking. This was also the day we encountered the first of many river crossings, something I had been looking forward to.
As the trek intersects with the Buritaca river, there were several points enroute where we needed wade to across it. Depending on the time of year that you choose to complete the trek, the river will be of varying depth and force. I completed the trek in the rainy season (July) and so the river, at its deepest, was around knee/thigh depth for me (I'm 5'1 so not particularly deep) and not very forceful.
The humidity of the jungle means that nothing ever truly dries, so I was keen to avoid getting my clothes wet. I therefore took my hiking boots and socks off, rolled up my leggings whilst hoisting my backpack up, all whilst carefully navigating the slippery rocks and trying not to fall flat on my face. Sound tricky? It was but was it was also an adventure and very refreshing.
Whilst ambling our way through the dense jungle, marching along to birdsong and the buzz of cicadas, we walked past the thatched huts of Kogi villages, at times sharing the path with locals and their mules going about their daily lives.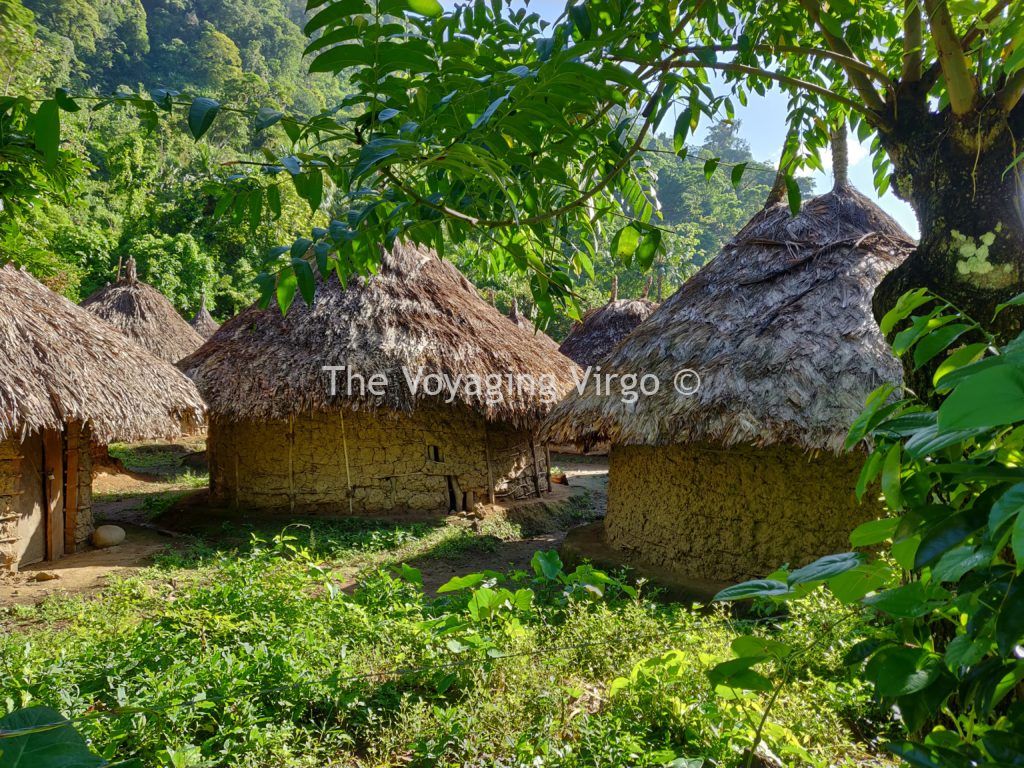 Something I particularly looked forward to were the afternoon fruit breaks which were a welcome treat in the hot midday sun. Our guides cut up fresh watermelon, oranges and pineapples which we devoured within minutes and it was the most divine thing we had ever tasted, giving us the energy boost we needed to carry on. Colombia has an abundance of succulent exotic fruits and sampling them all was definitely a highlight of my trip.
After a few more hours of trekking, we arrived at our second camp in the late afternoon with the rest of the day to relax, swim in the nearby waterfall and get changed and showered before dinner. This was a good time to unwind in a hammock and read or just chill out and talk with campmates.
Day 3 – El Paraiso Camp and Ascent to the Lost City
We awoke at around 4 am to begin on our ascent to the Lost City. The camp we were staying was located about 1 km away from the site but the hike took around an hour due to the steep paths and river crossings. The jungle floor was also wet and muddy from the rains from the previous night and so we needed to heed extra caution before taking each step.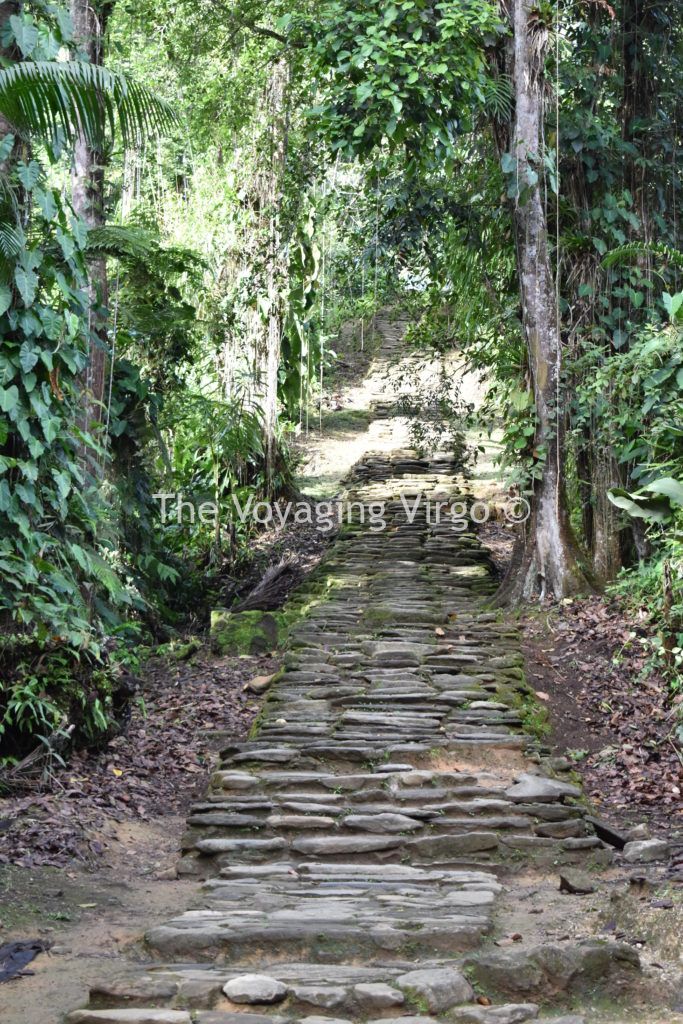 After an hour of walking through muddy winding paths, we finally arrived at the bottom of the mysterious ancient staircase we had heard so much about, marking the final ascent up to the Lost City. 1200 steep, narrow, stone steps stood between us and what we had come so far to see. Due to the rains, the steps were extremely slippery making what was already a challenge that much more difficult. Exercising extreme caution, we slowly began our climb up towards the jungle canopy.
Unable to look up at the sea of green leaves above me and trying not to look down for fear of falling, I cautiously stepped on the narrow stone ledges leading up one foot at a time, at points clambering up on all fours.
After what felt like hours, I finally made it to the top. With only our small hiking group at the entrance of the city and no one else in sight, for a brief moment I experienced the sense of wonder and excitement explorers must have felt when they first stumbled upon this ancient marvel.
However, before being permitted to enter the site which is still sacred to the indigenous communities, we participated in a cleansing ritual with our guide Lantana. We all stood around a circle of stones, at the centre of which he placed an offering of coca leaves. The coca leaf plays a central role in Wiwa religious ceremonies, offerings and general day-to-day lives. The purpose was to cleanse us of our impurities and negative energy before entering the sacred site; and with this we made our way up to catch our first glance of the Lost City.
Clinging to the side of the mountain and surrounded by dense jungle as far as the eye could see, we had finally arrived at the Lost City. I was blown away by its vastness and in awe of how people had managed to build it in such a remote location all those years ago. However, what I was really taken aback by was just how quiet and peaceful it was. Due to the very few hikers who make the journey, there were no crowds and apart from a few local indigenous people who live in the area, we had the place all to ourselves.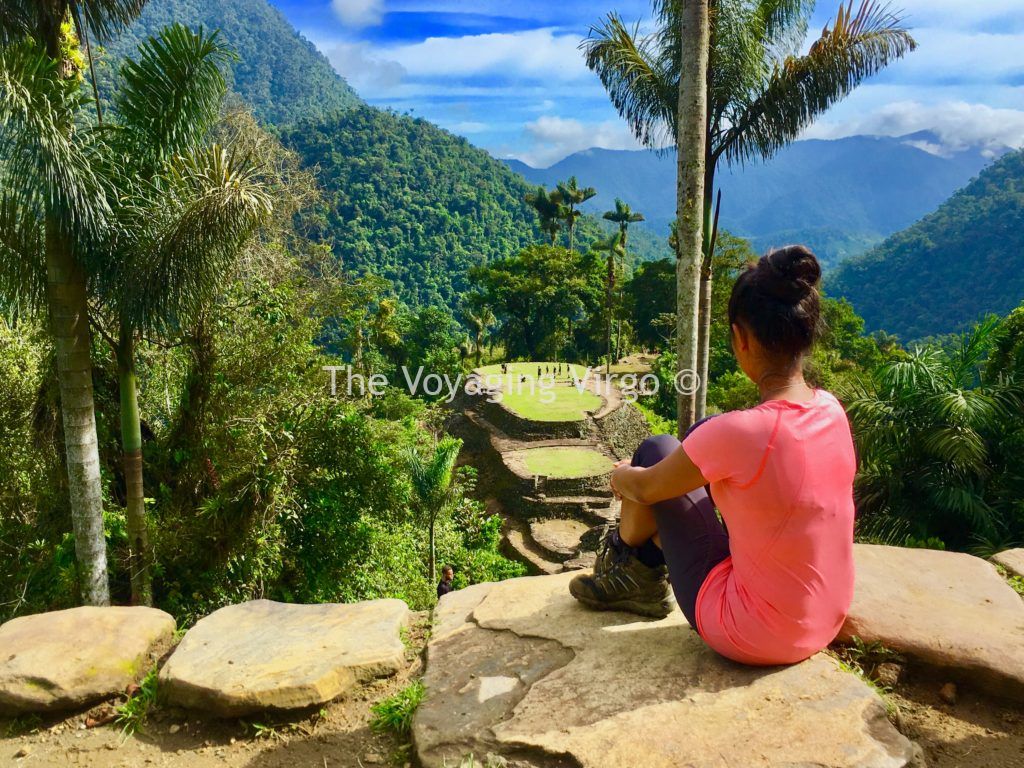 We spent an hour or so exploring and simply taking in the views before making our way back down the treacherous steps which felt far harder than climbing up them. Once again, taking each step at a time and strategically planning where to place my foot next, I carefully made my way down. One wrong step and I would bring my hiking companions in front of me down like a row of dominos. Thankfully that didn't happen and we made it to the bottom with our limbs intact! Energised from the high of what we had just achieved and witnessed, we headed back to camp.
Day 4 – Return Trek and Ricardito Camp
This day was spent hiking back the way we had come. This was also when the heavens decided to open and we were caught in torrential downpours, which although was very refreshing in the stifling heat, made the muddy paths more treacherous and our clothes even more saturated. At points, the slopes just became a mud laden slide which we found ourselves skidding down instead of walking.
As this was a round-trip trek, we passed back through the villages and river crossings we had traversed on the way up. This was a shorter day of walking and we arrived at the camp mid-afternoon allowing the rest of the day to relax and take in some final views of the mountains and enjoy our last night in the jungle.
Day 5 – Gotsezhy Wiwa Indigenous Community and Return to Santa Marta.
This additional day is unique to those on the G Adventures tour and involves a 5-6 hour detour to the Wiwa village at Gotsezhy which is also a community project supported by the Planeterra foundation. Waking up at around 6am, which counts as a lie-in on this trek, we began our morning hike towards the village
By this day of the trek, we were largely out of the dense jungle and passed through undulating valleys, farms filled with inquisitive cows and tall grass before arriving at the village. By this stage, we were all pretty exhausted and the majority of the group had fallen ill (6 of our members sadly had to leave the hike early due to illness). This final stretch of the hike was challenging to say the least.
On arrival, we were warmly welcomed by the locals and a freshly cooked meal prepared by the ladies of the community was waiting for us. As part of the project, the local women are trained to cook meals for passing hiking groups and also provide demonstrations showcasing their traditional weaving techniques. This allows them to sell their handicrafts to visitors and to generate their own income, enabling them to benefit from the tourism that comes to the region. It is an excellent way to allow local communities to be self-sufficient whilst preserving their culture and heritage.
We were then taken to the community meeting venue, a wooden thatched building, where we met with the Mamo, the spiritual leader and head of the tribe who spoke to us about his community and how he had to train for his position since childhood.
In particular, he spoke to us about the importance of nature to the Wiwa community and how it is their duty to protect it and maintain the spiritual balance. Like many Andean tribes in South America, the Wiwa worship mother nature, and the surrounding landscape is sacred to them. It is their source of food, water, medicine and general sustenance and therefore should be respected and revered.
Everything he spoke about felt particularly pertinent given the climate crisis we are currently facing. Climate change is a direct consequence of our failure to maintain the balance and taking more than nature can replenish. Perhaps there is something to be learned from ancient wisdom and practices that we are so quick to dismiss in the West. Instead, we should look to these communities as an example of living in harmony with nature and to only take what we need.
We spent the afternoon exploring the village and taking a much-needed snooze in the hammocks before hopping into the jeep and heading back down the bumpy dirt road we had taken 5 days ago, out of the jungle and back to Santa Marta. Hot, tired and sweaty, we were sad that the adventure was over but excited to be back to civilisation (and hot showers!)
5. General Tips for Completing the Lost City Trek
Insurance
Before doing anything, make sure your insurance actually covers this type of trek. The last thing you need is to suffer an injury and to find its not covered by your insurance (the lawyer in me talking…)
You can't do the Lost City trek independently
The Lost City trek cannot be done independently and must be booked through an authorised tour operator. As mentioned above, Magic tours and Wiwa tours are the leading providers and they have office in Santa Marta so you can book upon arrival or reserve in advance. You do not need to apply for a permit in advance to do the Lost City trek and there usually are spots available if you're thinking of booking last minute but if you have set dates in mind, I would suggest booking in advance to avoid disappointment.
As I did my tour as an add on with G Adventures, they dealt with the logistics for me but the trek was ultimately run in conjunction with Wiwa tours.
Leave your luggage at the hotel
On this trek, you are expected to carry your own things. There are no porters but you can hire a mule to carry a few bits at an added cost (around £20 per day). Therefore, keep what you take to an absolute minimum and pack light. I have set out an extensive packing list in a separate blog. The remainder of your luggage can be kept at the hotel if they offer storage facilities or alternatively, ask your tour operator if they can store it for you at their offices for the duration of the trek.
Pack strong insect repellent
As this is a jungle trek, prepare for some mosquitos and bug bites, especially if completing this trek in the rainy season. I recommend packing a strong insect repellent such as jungle formula which worked wonders for me as I had very few bites.
Pack a bathing suit and quick dry towel
There are a lot of rivers and waterfalls along this trek and in the afternoon at camp, you'll have some time to go for a dip. It's extremely refreshing especially after a long days' trekking. If you do fancy a swim, pack a swimsuit. A bikini or two piece is probably the most practical for the ladies as they're easier to change in and out of, can be worn under clothes and dry quicker than a one piece.
Drinking Water
Every morning, your guides will fill up a large tank with river water and treat it. This is perfectly fine to drink, I personally didn't have any problems with it. Ensure you keep at least 2 large refillable water bottles with you and that you refill them before you head out in the morning. There are no water stops along the way until you arrive at the next camp in the late afternoon and so if you forget to fill up in the morning, you will be left for the rest of the day without water which isn't ideal in the heat.
Pack a small bottle of Hand Sanitiser/ Anti-Bacterial Hand Wash
Something I noticed was the lack of handwash by the sinks. Several members of our group also fell quite ill with tummy bugs during the trek. For general hygiene and to reduce the risk of falling ill, I highly recommend packing a small pocket sized bottle of hand sanitiser or wash to use after using the bathroom and before meals. I felt this played a role in helping me to evade getting ill.
Dietary Requirements
If you have any dietary requirements, be sure to let your tour operator and tour guide know when booking and at the beginning of the trek.
I'm a vegetarian and don't eat meat, fish or eggs. They were able to cater to this but to be honest they didn't make anything especially for me (unlike on the Inca trail which was superb). It was just a matter of giving me the same meal as everyone else minus the meat. Meals were quite repetitive consisting of rice, arepas, salad & plantain. Meat eaters got the same but with the addition of chicken, eggs or fish. I'm actually quite strict when it comes to how food is prepared and I do have a suspicion food wasn't prepared separately and there may have been some cross-contamination so if you have any allergies please do bare this in mind.
Pack a dry bag for your electronics
I love taking photos and do took my DSLR with me everywhere, however the jungle is extremely humid which can damage electronics. I therefore purchased some dry bags from amazon and used these to store my camera, phone, chargers and batteries.
I also recommend packing a bin bag to keep clean and dry clothes separate from dirty clothes or to cover your backpack when it rains or for river crossings.
Spare Batteries & Charging Banks
Some camps may have limited charging facilities but I wouldn't rely on these. Before departing for the trek, ensure your devices are all fully charged. I took my DSLR, I-Phone & Kindle with me. The Kindle didn't need recharging nor did my DSLR camera battery, but if you anticipate taking a lot of footage bring a spare, fully charged battery with you.
My I-phone required charging and so I brought my fully charged power bank which allows 4 full charges. This was sufficient to get me through the 5 days as I only used my phone to take the odd photo or video and to listen to music – there's no phone signal or internet in the jungle after all!
I have linked my equipment in a separate packing blog if you want to know what I used.
Ask before photographing local tribes' people
Not all local people like being photographed and also it's rude to take pictures of anyone without asking. If you ask nicely, most will oblige.
Training
This is not a technical trek meaning you don't need any special equipment or training to do it. That said, you should be in reasonably good shape and be able to walk for several hours uphill with a backpack. I am generally not very athletic in my day to day life so I went to the gym during the weeks leading up to my trip and spent some time on the treadmill running at an incline. I think this definitely helped me get my fitness and cardio up.
Vaccinations/ Immunisations
Make sure you check which vaccines you need and ensure you get these well in advance of your trip. It's a tropical country after all and it's better to be safe than sorry.
Wear proper trekking boots and socks
Trainers are just not good enough. The paths are slippery and uneven and so you will need good grip and preferably ankle support to stop you from spraining your ankle. If they are waterproof then that's even better.
Wear long trousers even though it is really hot
I suggest wearing long trousers or leggings and at least half sleeve t-shirts to provide some coverage from both the sun (it is intense) and insect bites. Although it does get pretty hot, I wouldn't recommend shorts or strappy tops, you will get more bites and will be more exposed to sun burn.
On the fifth day, you will be walking through some long grass and so wearing long leggings will also protect you from ticks. Gym leggings are perfect in my opinion as they are light, breathable and quick drying.
Don't forget your flip flops, seriously don't…
After a long days' trek, you will be eager to get those boots off and let your feet breath. Flip flops are ideal for wearing around the camp and afford some protection when using the not-so clean shower and toilet facilities.
Bring a sleeping bag liner
The jungle can get a little cooler at night and some camps don't provide blankets. A sleeping bag liner is thin, lightweight and can provide a barrier between you and the unwashed bedsheets. It's not a must but I'm very glad I brought mine.
Sleep with your valuables
There are no lockers or storage facilities on the trek and so you just dump your bag by your bed and climb in. Just to be on the safe side, I put all of my valuables such as my camera, phone and passport into a dry bag and kept this with me whilst I slept. No one reported any thefts, this was just me being extra cautious but it's better to be safe than sorry. It would be a huge shame if you lost all your photos and footage after such an amazing trip!
Nothing ever dries in the jungle
You will sweat a lot. You'll also get caught in torrential downpours and cross rushing rivers and so inevitably, you will have wet clothes. The camps provide clothes lines to hang up your things after a day's trek which is a good way of giving them at least a small chance of airing out.
It's good to have a dry set of clothes just for wearing around the camp and to bed. Keep these separate from your trekking clothes. I can't describe to you gross feeling of peeling on yesterday's pair of damp, sweaty clothes that smell of wet dog before another full days' trekking. Ahh the joys of being outdoors!
Showering is mandatory
After each day's trek, all hikers are required to shower before getting into bed. I imagine this is because the bedding isn't changed after each visitor and to maintain some level of hygiene (I try not to think about it too much…)
You will encounter many cute cats and dogs along the way but resist the urge to pet them
I absolutely love cats and seeing them walk around the camps, it was very difficult not to reach out and give them a pet but my advice would be not to. They are harmless and actually very friendly but you're in a foreign country and they may not be vaccinated like our pets back home and may also carry fleas and ticks. A small bite or scratch could prove disastrous and require urgent treatment bringing your adventure to an abrupt end. One hiker in another group was bitten by a cat and had to turn back early to get urgent hospital treatment. I'm not saying they definitely have rabies or any other disease but it's better to be safe than sorry.
Hammocks are not comfortable
The camp had more people than there were beds and so some of our group had to sleep in hammocks instead. 5 people from our group were selected randomly to sleep in one but I was told later by my campmates that they were very uncomfortable and got quite cold at night so if you can avoid sleeping in one, my advice would be to do so.
You're going to smell really bad so just accept it
The humidity in the jungle is unreal and you will be dripping in sweat in no time. Combine that with 7-8 hours of trekking through muddy paths and raging rivers each day and you've created the perfect conditions for smelling a bit ripe. No amount of showering or deodorant will save you so you just have to come to accept it. Everyone else will smell too and so your combined stenches will just cancel each other out.
One for the ladies – Try and plan the trek around your period
Being on your period is uncomfortable at the best of times but experiencing it on this trek will be 10 times worse. It is extremely humid and there are no stops along the trek for you to go to the loo. I know everyone is different but I was so thankful I wasn't on my period during the trek.
Don't do this trek if you have any serious health conditions
This trek takes you out to some pretty remote places that are only accessible by foot. Heaven forbid if something serious were to happen and an urgent response were required, it would take some time to reach you and get you out of there. If you have a heart condition or something similar, I would avoid doing this trek. Several members of our team fell ill and requested to leave the trek early only to be told they would have to push on. It was only when they physically couldn't carry on were mules brought to carry them out and even that took several hours.
If you are looking to go on this trek I have set out my detailed packing list for the Lost City trek based off of my own experience in a separate blog here.
6. How does the Lost City Trek compare with the Inca Trail?
For a full detailed comparative overview of both treks for anyone considering complete either or both, check out my Inca Trail vs The Lost City Trek blog post here.
7. Useful Links
Wiwa Tours – Lost City Tour Operator
Magic Tours – Lost City Tour Operator
G Adventures – The Lost City Trek Tour
Trip Advisor – The Lost City Trek Reviews
Fit For Travel – The UK government's recommended vaccinations for travel to Colombia
I hope you found this blog useful. Please leave a comment below to let me know what you think or have any questions.