Just a stone's throw away from London, across the English Channel, is the nation of Belgium. Yet in my 33 years of living in the UK, it wasn't until very recently (ironically, after Brexit) that I decided to pay the home of the European Union a visit.
Belgium isn't somewhere that automatically springs to mind for most people when thinking of one's dream travel destination (no offence to any Belgians…) However, this little unassuming country, wedged between the Netherlands, Germany, France and fellow oft overlooked neighbour Luxembourg has got a few things going for it. It doesn't have great weather, nor does it have any world-famous landmarks but don't discount it just yet…
How to get to Belgium
Belgium is located in north-western Europe and can be reached in a short jaunt from the UK either by plane, car, ferry or train.
In search of a short weekend trip away from London that wasn't too far and wouldn't break the bank, my friends and I turned our sights to the Eurostar website for inspiration. As we had never travelled by Eurostar previously, we thought we'd give air travel a miss and hop onto a train to the continent from central London's St Pancras International Station.
Paris initially came to mind; our closest foreign capital but not the most budget friendly option. Further perusing the website, we were drawn to France's humble neighbour. Home to world renowned chocolate and delectable melt in the mouth waffles, we decided that was enough of an incentive to warrant paying Belgium a visit.
We chose to book a package deal from lastminute.com and were able to bag a very reasonable hotel and train package via the site which included standard premier (premium economy) seats. These are essentially economy tickets with slightly more spaced-out seats and include a few refreshments. We paid around £200 for return train fares to Bruges and 2 nights' accommodation at a 4-star hotel (excluding breakfast).
Alternatively, you can keep an eye out on the Eurostar website which often has flash sales at certain times of the year where you can bag a bargain if you're flexible. You can then book your accommodation separately.
Rather conveniently, the country's tourist hotspots of Brussels, Ghent and Bruges are consecutive stops on the Eurostar train route and so can conveniently be visited in the same trip, time permitting.
If you are from London, your ticket will cover the Eurostar leg to Brussels and then a local train ticket from Brussels to Bruges. The local ticket is valid for use at any time (on your set date) over a span of 24 hours.
We therefore decided to pay both Bruges and Brussels a visit in one short 3-day trip. Due to limited time, we gave Ghent a miss but would recommend checking it out if you're around for longer.
We departed from St Pancras International station early on Friday morning arriving at Gare de Bruges railway station in the early afternoon some 3.5 hours later following a quick change in Brussels.
The Bruges station is centrally located and so you're in the heart of the city from the get-go. Most hotels and sites of interest are reachable by walking. I advise booking a hotel in the south of the city so you don't have far to walk from the station.
A Little Bit About Bruges
Bruges, or known locally as Brugge, is located in the north-west of the country and is the capital of the province of West Flanders in the Flemish region of Belgium. It is situated close to the coast facing out onto the North Sea and its historic city centre has been granted UNESCO world heritage status.
Like a town plucked straight from a fairy-tale, Bruges is known for its cobbled medieval streets and quaint canals lined with colourful crow-stepped gable style houses. As a relatively small city, Bruges is very easily navigated on foot and is the perfect city break for a short weekend away.
As Bruges is on mainland Europe, expect continental weather. The summers (May-September) are hot, with sunshine (but always with the possibility of rain) and the winters (October-April) are very cold with a high probability of wind/rain/ snow/ all of above.
We visited in early February when the weather was cold and there was a flurry of snow however this only added to Bruges' charm. The sprinkling of snow made the city even more enchanting like a scene adorning the front of a Christmas card. Travelling off-season also allowed us to get a cheap deal.
If you do choose to travel in the winter months, I highly recommend suitable outdoor attire to keep you warm as most of Bruges' attractions are outside and you'll be walking for most of the time. Bring comfortable footwear as most of Bruges is has cobbled streets, so leave the heels and wedges at home!
What to See & Do in Bruges
Walking Tour
Whenever I arrive in a new city, I always recommend starting with a walking tour. They're a great way to get your bearings, find out where the points of interest are and learn a bit about the city you're in. You can also ask your tour guide, who will usually be a local, for recommendations and meet other travellers.
We attended the Legends of Bruges free walking tour which was helpful for just getting a feel for the city before heading off to explore alone: https://legendstours.be/en/bruges/free-tours-bruges
Grote Markt
This is the main market square of Bruges located in the heart of the city. With statues of Jan Breydel and Pieter de Coninck located at its centre, the market square is a great starting point for exploring the rest of the city and is also where you'll find the city hall and Belfry tower. The 83-metre tower can be climbed and offers those who choose to do so, splendid panoramic views of the city.
It's a lively part of town used as a meeting point for locals and tourist alike and is lined by a number of cafes and restaurants with brightly coloured facades where you can grab a coffee and take in the surrounding architecture and lively atmosphere.
Be sure to pay the square a visit in the evening too when the buildings are illuminated with lighting.
Canals, Canals, Canals…
This is what Bruges is famous for so be sure to while away a few hours just walking along the canals and weaving your way through the winding cobbled streets. You'll be sure to stumble across a few chocolateries and waffle shops in the process!
Minnewater Lake, the Lovers Bridge and the Lake of Love
Don't worry, singletons won't be tossed out! Located in Minnewater Park, the bridge is a picturesque corner of Bruges and a great location for taking some lovely photos. It's a nice spot to take a little break after a long morning of walking (even if you're not loved up!).
Boat Trip – Rozenhoedkaai
This is a beautiful part of the canal and also the starting point for most boat trips. I highly recommend going on a boat trip and seeing the city from the canals as it will allow you see the city from a different perspective and see areas that aren't accessible by foot whilst also learning about the history of the city.
There are several boats moored here so just enquire about tickets and hop onto the next departure which are quite frequent.
The Basilica of the Holy Blood
This renaissance church is home to a vial said to contain a cloth with the blood of Christ on it. Even if you are not especially religious, the church is worth visiting just for the beautiful stain glass windows and neo-gothic architecture.
The Ten Wijngaerde Beguinage
Founded in 1245, the white plastered buildings once housed a community of nuns called Beguines. The buildings still stand today with a courtyard sprinkled with a carpet of daffodils at its centre. If you visit during the springtime, you'll see the yellow daffodils in full bloom, a very pretty sight against the whitewashed buildings.
Visit a Windmill
Bruges is home to a few windmills (Sint-Janshuismolen, Bonne-Chiere mill & De Nieuwe Papegaai), some dating back as far as 200 years and are still functional, used for milling flour. These can be reached by foot or by bike. I had never seen a windmill before so was quite keen to check one out.
That's Toast for Breakfast
This is a nice little understated café which serves breakfast all day. It's ideal if your hotel doesn't provide breakfast or if you're in the mood for a late brunch. They also cater well for vegetarians and vegans. However, it is a little pricey so keep that in mind if you're on a budget: https://www.thatstoast.com
Eat some French Belgian Fries
A hotly debated subject, Belgians insist that it is in fact they (and not the French) who invented the much loved (French) fry with this region being its birthplace.
Fry/chip shops are therefore scattered all over the city and are a popular mid-afternoon snack for tourists and locals alike. Mayo is the dipping sauce of choice in these parts but I'm very much a ketchup girl, so take your pick.
If, like me, you are vegetarian or vegan, be sure to ask how they are fried as it is common to use lard (animal fat). There are certain places that offer vegan friendly fries such as Royal Frituur or the FritBar so be sure to check these out instead.
Waffles and Hot Chocolate at The Old Chocolate House
This is a very cute and popular little chocolate shop with a homely tearoom upstairs which just screams Hygge vibes where you can easily while away a rainy afternoon.
I opted for their famous hot chocolate and a butterscotch waffle which were both absolutely divine. Patrons are presented with a large bowl of hot milk and a selection of chocolate chips to choose from. You are then free to make your own concoction of chocolate and milk to create the perfect hot chocolate.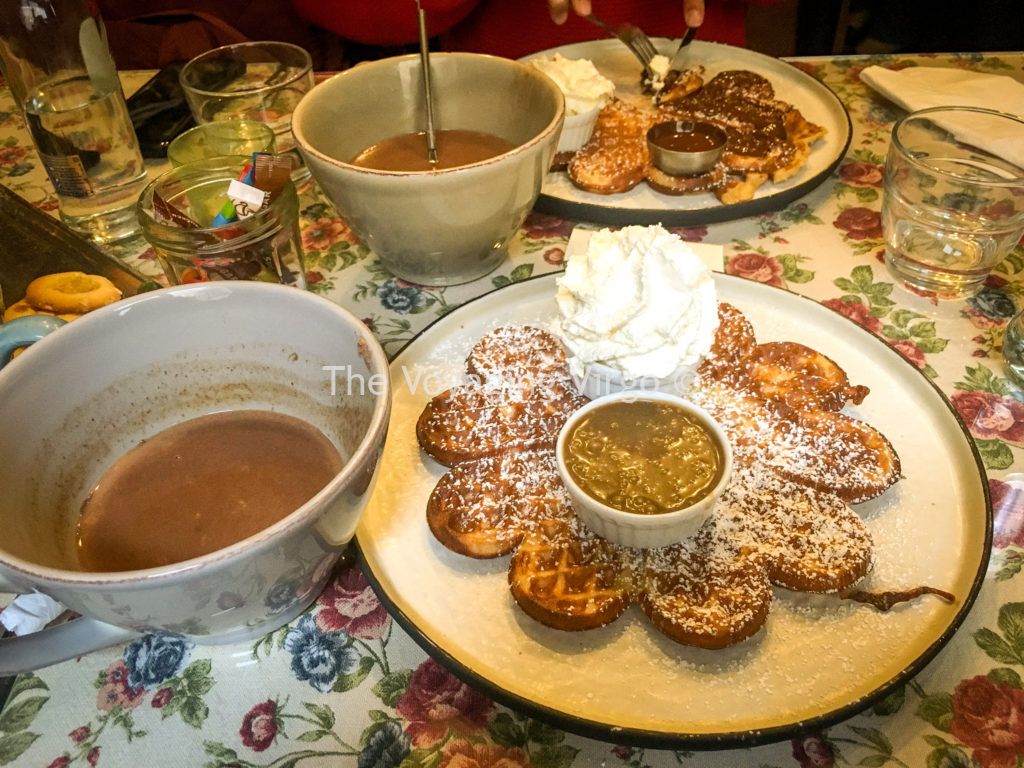 I highly recommend a visit here if you're looking for somewhere cosy to chill out and take a break from exploring. It is a very popular spot and can get quite busy so plan your visit accordingly: https://www.oldchocolatehouse.be
Take a Day trip to Ghent
If you've had your fill of Bruges, Ghent is just a short 30-minute train ride away and marks the halfway point between Bruges and Brussels.
I didn't get the chance to visit Ghent unfortunately however I have been advised that it is equally as charming as Bruges and less inundated with tourists. Also home to canals, cobbled streets and medieval buildings, you may choose to visit Ghent over Bruges if you're looking for a less touristy alternative and are short on time.
A Whistle-Stop Tour of Brussels
As mentioned above, if you have travelled to Bruges from London on the Eurostar, you can use your local train ticket between Bruges and Brussels at any time of the day.
On our final day, we decided to hop onto an early train out of Bruges, which is only 50 minutes from Brussels, so that we could spend a few hours in Brussels before catching our connecting train back to London in the evening.
Brussels has a metro system so you can easily get across town quite quickly. Most sights of interest are within walking distance to each other with some scattered across other parts of the city. I've set out a few of the highlights we were able to visit. If you have more time than we did, Brussels has many more sights, restaurants, museums and cafés to experience than those I have listed.
Grand Place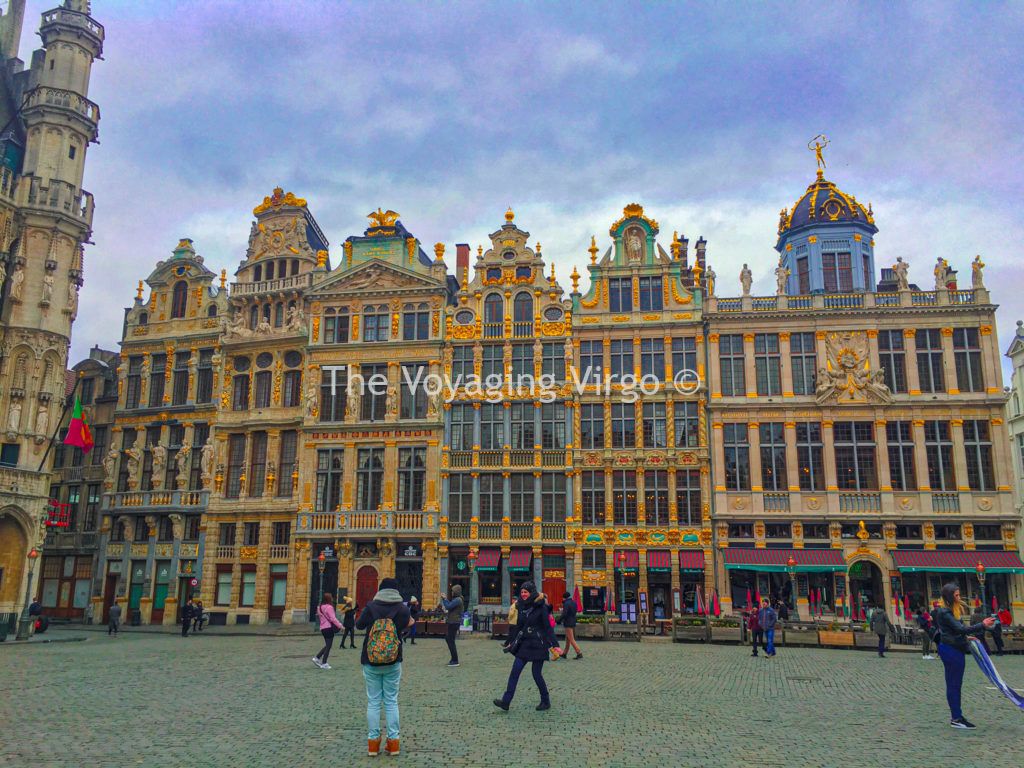 This is the central square in Brussels and where most people choose to start exploring the city. It is surrounded by the architecturally impressive guild houses, city hall and the Maison du Roi. It's the bustling heart of the city and an impressive site to see both in the day and night when the buildings are all lit up.
Manneken Pis
For reasons I don't quite understand, this little bronze water feature of a urinating boy has become somewhat of an emblem for Brussels and one of its main tourist attractions. I'll be honest, it is as underwhelming as it sounds and I wouldn't go out of my way to see it (it's no Trevi Fountain). But, if as a tourist it's something you just want to tick off of your list whilst you're in town or you happen to be passing by, the Manneken Pis is located on the corner of Rue de l'Etuve.
And if urinating statues are your thing, the Mannekin Pis has an equally shameless sister, Jeanneke Pis located near the Rue de Bouchers and a dog, Zinneke Pis located on Rue de Chartreux.
Mont des Arts
The Mount of Arts is located in central Brussels and comprises of a beautiful public garden surrounded by the Royal Library of Belgium, the National Archives of Belgium and the Brussels Meeting Centre.
If you climb up to the top of the steps, you'll get a fabulous view of the manicured gardens stretching out towards the prominent spire of the Brussels Town Hall in the distance.
Cathedral of Sant Michael and St. Gudula
Built in the Gothic style in the thirteenth century, the cathedral took around 300 years to complete. This cathedral is worth visiting just for the beautiful architecture and can be reached by a short walk from the Brussels central train station.
Palace & Park de Bruxelles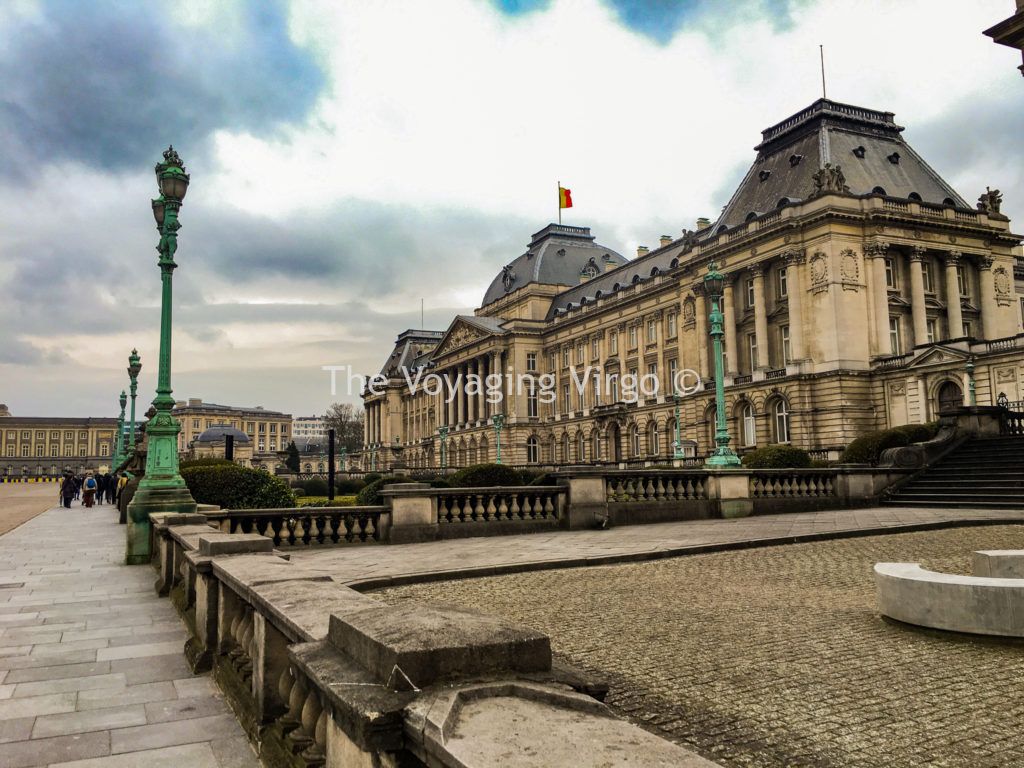 The park was the first public park in Brussels and is located between the Federal Parliament and Royal Palace. It's a tranquil part of the city and the perfect place for a leisurely stroll especially in the summer months.
The Royal Palace is the official palace of the King and Queen of Belgium but is no longer used as the primary Royal Residence. Instead, it now acts as the King's administrative residence and main workplace where heads of state and foreign guests are received. The palace is opened to the public every summer from 21 July to September.
Galeries Royales Saint-Hubert
The Royal Gallery of St Hubert is a beautiful shopping gallery packed with high end stores reminiscent of the Galleria Vittorio Emanuele II in Milan but on a smaller scale. Even if you aren't in search of a designer handbag, it's a nice place to simply window shop and capture some beautiful photos of the elegant architecture.
Other places of interest which we unfortunately had insufficient time to visit include Parc Leopold, the European Parliament, the Atomium landmark, Mini-Europe theme park and the Parc du Cinquantenaire to name a few.
In Conclusion…
Our decision to visit Belgium was very last minute. In all honesty, Belgium was not somewhere I had longed to visit but I'm certainly glad I did. Unlike its slightly more popular European neighbours, Belgium doesn't boast world famous landmarks, ancient ruins or great weather nor does it hold itself out to. Instead, Belgium quietly prides itself on its own understated culture and charm and does not even seek to compete with the likes of Italy or France.
If you are looking for a short weekend getaway that's easily accessible without the hassle of air travel, I would recommend a weekend in Belgium. Both Bruges and Brussels are small enough to get around in a couple of days so you can explore at a more relaxed pace. This would not have been the case had we chosen to visit a far bigger city like Paris.
Whether you're travelling solo or as a family, I found Belgium to be very safe and the people friendly. Like most cities, you just need to keep your guard up against petty theft like pickpocketing.
In terms of cost, Bruges and Belgium are not budget destinations but they are cheaper than my hometown London. Anywhere that is a tourist magnet is going to be pricey, so if you are looking to keep costs down, perhaps opt for hotels with breakfast included or an Air BnB where you can cook your own meals. Alternatively, opt for restaurants, shops and cafes which are located further away from the centre of town and less frequented by tourists. Travelling during off seasons, outside of school holidays and if possible mid-week will also allow you to secure a better deal.
If you've visited Belgium, I'd love to hear about your experience and recommendations in the comments section below!